Shedding light on
See all "Shedding light on"
LEAN management at the Eurofins Biomnis laboratory
30Progressive and continuous improvement
LEAN management is a management approach for improving the company's performance. This method allows us to seek the ideal operating conditions by having personnel, equipment and sites work together in order to add value with as little waste as possible.
This methodology is driven by the desire to maximise customer satisfaction.
At Eurofins Biomnis, our quest for operational excellence begins with a Lean Management pilot project implemented at Corelab, our automated platform at Ivry Sur Seine, which performs the most highly automated or automatable analyses.
Profile of the Corelab automated platform
9,000 analyses a day,
25 analysers,
a team consisting of 19 technicians and 3 laboratory assistants
> 10 expert clinical pathologists
LEAN management in action at our Corelab automated platform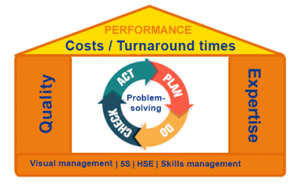 This involves the day-to-day application of the scientific approach encapsulated by the acronym PDCA: Plan Do Check Act (or the Deming wheel),
a model for continuous improvement or problem-solving. In each situation, teams hypothesise about the causes of an issue or problem, which then undergo real-scale testing. The results of these tests make it possible to objectify the next steps of the process according to whether the underlying hypotheses have been totally or partially validated.
In addition to the PDCA method, we use other tools to optimise Quality and Continuous Improvement:
5S: a method for continuously optimising working conditions and working time by optimising the organisation, cleanliness and safety of a work space.
Visual management: tools comprising a dashboard of indicators that the teams can access in order to give them a global vision of the activity and quickly identify the actions to be implemented. A 15-minute meeting of team coordinators each morning facilitates the sharing of information.
"Problem-solving" projects: work groups examine a specific subject to identify the root causes of a problem and thus eliminate its occurrence. These projects take place around the respective workstation, with the participation of the technicians, supervisors and clinical pathologists concerned.
Lean Management is therefore about using the appropriate tools, but, above all, about involving the entire team in optimising the organisation and improving quality.
The first results of LEAN management implemented at Corelab
Lean Management is a long-term approach, first introduced in 2017, but that has already produced measurable results:
An improvement in quality
950 Continuous Quality Improvements* (CQI) per day,
8,000 External Quality Assessments (EQA) per year,
with a rejection rate of less than 1%!
Ongoing optimisation of our turnaround times
TAT (Turnaround Time) exceeding 95%,
A reorganisation of the automated testing platform schedules in the last 6 months has led to results being ready 2 hours earlier than previously for analyses at the Corelab platform.
As well as an optimised use of our equipment and a strong partnership with our suppliers in managing technical performance (rate of re-runs, number of analysers, maintenance schedules, etc.).
Feedback
A presence in the field, everyone's participation in improving operation, as well as simple common sense are the key ingredients for implementing Lean Management in a sustainable way.
This first Lean Management project continues on from our F@st-Lab project, a major programme to transform our analysis management processes. You can find out more and follow the deployment of this project in our Biomnis & You newsletter.
⃰All the measures taken by laboratory staff to continuously evaluate the reliability of a job that they perform
---